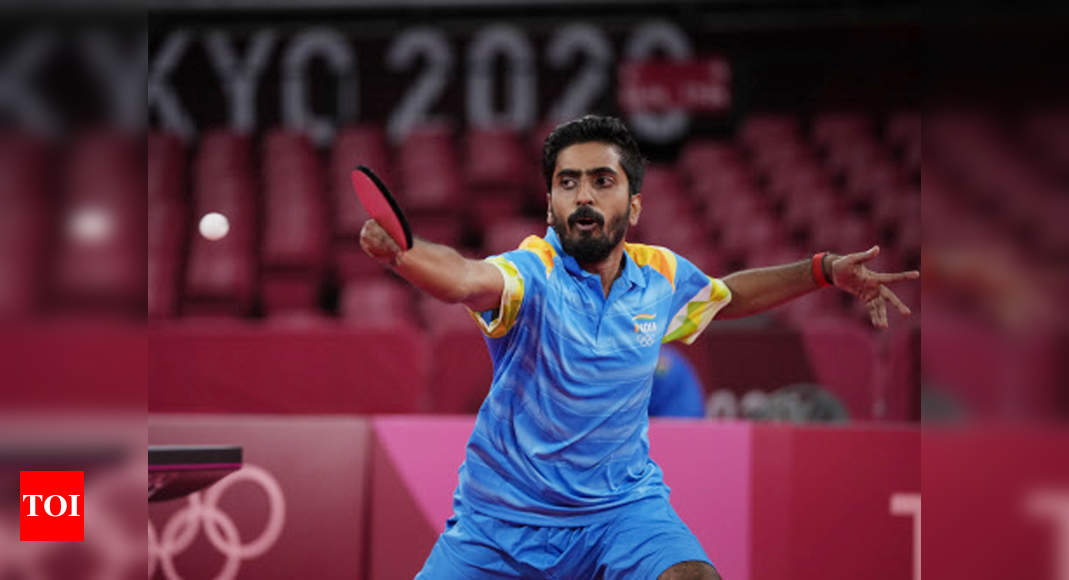 It was not an
Olympics
debut paddler
G Sathiyan
would want to remember. The 28-year-old went down 3-4 (7-11, 11-7, 11-4, 11-5, 9-11, 10-12, 6-11) to Hong Kong's
Lam Siu Hang
in the second round at the
Tokyo Games
on Sunday.
The 26th seeded Sathiyan, who received a bye in the first round, lost the opening game 7-11 but quickly regrouped to win the next three games — 11-7, 11-4, 11-5. Sathiyan's defence was sturdy and Lam was feeling the heat by the time the clash entered the fifth game.
With a comfortable 3-1 lead, one would have expected Sathiyan to wrap things up. But things began to go downhill for the Indian from the fifth game. Errors began to creep into Sathiyan's game as the 95th ranked Lam made full use of it to pocket the fifth and sixth games 11-9 and 12-10 respectively and take the clash into the decider. Lam had the momentum in the seventh and final game as he raced to a 5-2 lead with an imperious forehand winner.
Sathiyan then trailed 6-9 and a forehand error gave Lam the match point. Sathiyan subsequently committed a backhand error and it was all over. Sathiyan's long-time coach
S Raman
was at loss for words to explain his ward's performance. "This defeat just can't be explained. He would have won games from these positions on any given day but today Sathiyan just couldn't do that. He will come back stronger from this loss," Raman told TOI.
Raman felt Sathiyan ought to have been pushed more by national coach
Soumyadeep Roy
when the match began to slip from his hands. "All that he needed was a kick up his back and Sathiyan would have been fine. Probably, Roy didn't know how to push him in these circumstances, which is obvious, as he is not his coach nor did he have a long stint with him as a travel coach," said Raman who couldn't accompany Sathiyan to the Games.
💔💔 https://t.co/hQjC8w3Ll0

— Sathiyan Gnanasekaran (@sathiyantt) 1627210564000
Sathiyan later took to social media to comment on his shocking defeat. "Very tough day on court and certainly a heartbreaking loss. Gutted to have missed my chances and probably will take a few sleepless nights to overcome it. Nevertheless, I gave it my all on the court and it was a great experience to play in my debut Olympics," he wrote.