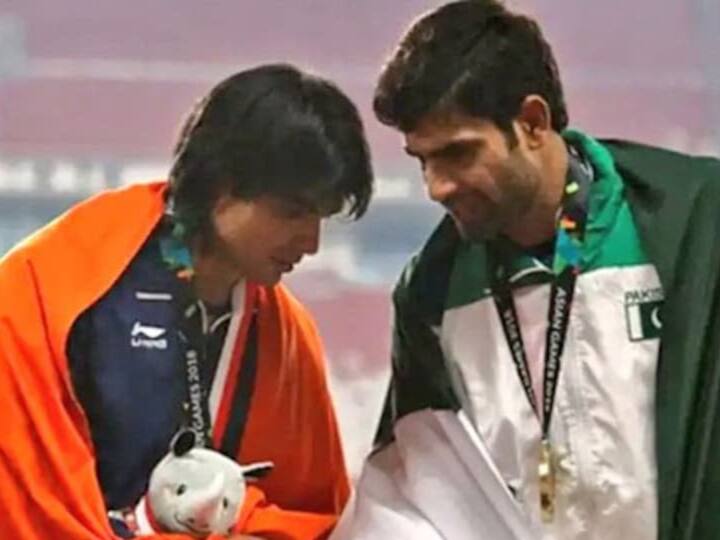 New Delhi: Pakistan's star javelin thrower Arshad Nadeem says he will miss competing against India's Olympic champion Neeraj Chopra at the Commonwealth Games 2022 as they are part of 'one' family, PTI reported. Last month, India's Neeraj Chopra had won a historic silver medal at the World Championships with a throw of 88.13m in which Pakistan's Arshad finished fifth, though he became the first Pakistani to qualify for the finals.
While Neeraj decided to pull out of the Commonwealth Games (CWG) 2022 due to a 'groin strain', Arshad is expected to attain a podium finish with Grenada's Anderson Peters. Peters is a strong contender for the gold medal, having recently won a gold medal at the World Championships. "Neeraj bhai is my brother. I miss him here. May God give him the best of health and I get to compete with him soon," Arshad told PTI.
Pakistan's Star Athlete Olympian Javelin Thrower @arshadn0fficial has directly qualified for the final in Commonwealth Games 2022 @birminghamcg22 All eyes on Arshad Nadeem in javelin as @Neeraj_chopra1 not participating. All de Best Arshad bai pic.twitter.com/5T5LdSx2hH


— Navdeep Singh Gill (@navgill82) August 3, 2022
The strong 'brotherhood' between the Indo-Pak rivals started during the 2016 South Asian Games in Guwahati. When Neeraj won the gold medal in the Asian Games four years ago, Arshad won the bronze medal. At that time Neeraj was not very much open with his Pakistani rivals, but now things have changed and the two have developed a good bond.
"He is a good person. Initially you tend to be a bit reserve. When you get to know each other, you tend to open up. "We have a very good friendship. I hope he keeps performing for India and I keep performing for my country. We both have made an impact. We are like one family," the 25-year-old told PTI.