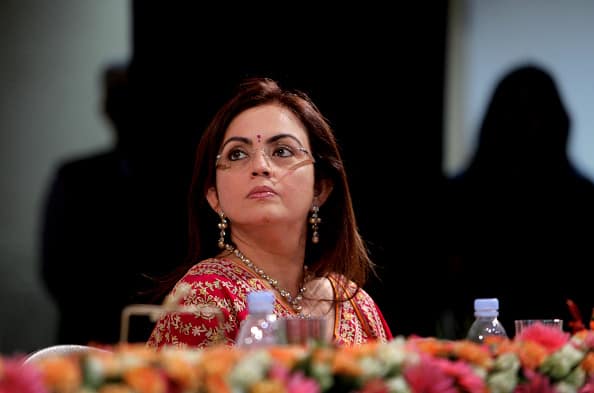 New Delhi: Following the end of the IPL media rights auction 2022, Nita Ambani, Director of Reliance Industries Ltd., stated that they had a "mission to bring IPL to cricket lovers all over the world."
The IPL TV and digital rights for the 2023-2027 cycle were sold at e-auctions on Tuesday to Star India and Viacom18 for a record Rs 48,390 crore for 410 matches. In terms of pre-match value, the IPL is presently the world's second most valuable sporting competition.
For the seasons 2023-2027, Viacom18 has purchased the rights to digitally webcast Indian Premier League matches across the Indian subcontinent.
It has also obtained the digital rights for a unique package of 18 games in each season in India. Viacom18 has secured broadcast and internet rights in three of five overseas regions, including important cricketing nations.
According to an official Viacom18 release, Nita Ambani said: "Sports entertain us, inspire us and bring us together. Cricket and IPL personify the best of sport and the best of India, which is why we are proud to be deepening our association with this great game and this wonderful league. Just like with everything we do, our mission is to take the joyful experience of IPL to cricket fans wherever they are – in every part of our country and around the world." 
Package A (of TV) was sold to Star India for Rs 23,575 crore, or Rs 57.5 crore for each match, while Package B (of Digital Rights) and Package C (for chosen 18 games in digital space for India per season) were sold to Viacom-18 for Rs 23,758. Viacom-18, which is owned by Reliance, also gained rights to Australia, South Africa, and the United Kingdom. 
Viacom18 outbid recognised broadcasters and digital enterprises to develop itself as a premier digital media, entertainment and sports destination.
Viacom18's digital platforms are preparing for leadership in India and among the Indian diaspora throughout the world, thanks to their broad reach, strategic alliances, and increasingly popular content portfolio.
Viacom18 will be able to bring India's largest athletic event to every part of the country with these IPL rights.
It will make IPL available to every Indian in every corner of India, even the 60 million FreeDish homes which presently are not able to receive this popular programming.
Viacom18 has proved that it is developing future digital channels while also strengthening traditional television programming. It possesses state-of-the-art digital skills to give the greatest possible user experience to hundreds of millions of Indian and worldwide consumers.
The digital platforms leverage a combination of top-class content as well as digital capability through big data analytics and predictive algorithms to give contextualised and relevant material to each customer.
Viacom18 is making its first big move into cricket after acquiring a bevvy of sporting rights in soccer (FIFA World Cup, La Liga, Serie A, and Ligue1), badminton, tennis, and basketball (NBA).
The IPL rights make Viacom18 and its platforms one of the country's major sporting destinations.
[Disclaimer: This article is a paid feature. ABP and/or ABP LIVE does not endorse/ subscribe to the views expressed herein. We shall not be in any manner be responsible and/or liable in any manner whatsoever to all that is stated in the said Article and/or also with regard to the views, opinions, announcements, declarations, affirmations, etc., stated/featured in the said Article. Accordingly, viewer discretion is strictly advised.]