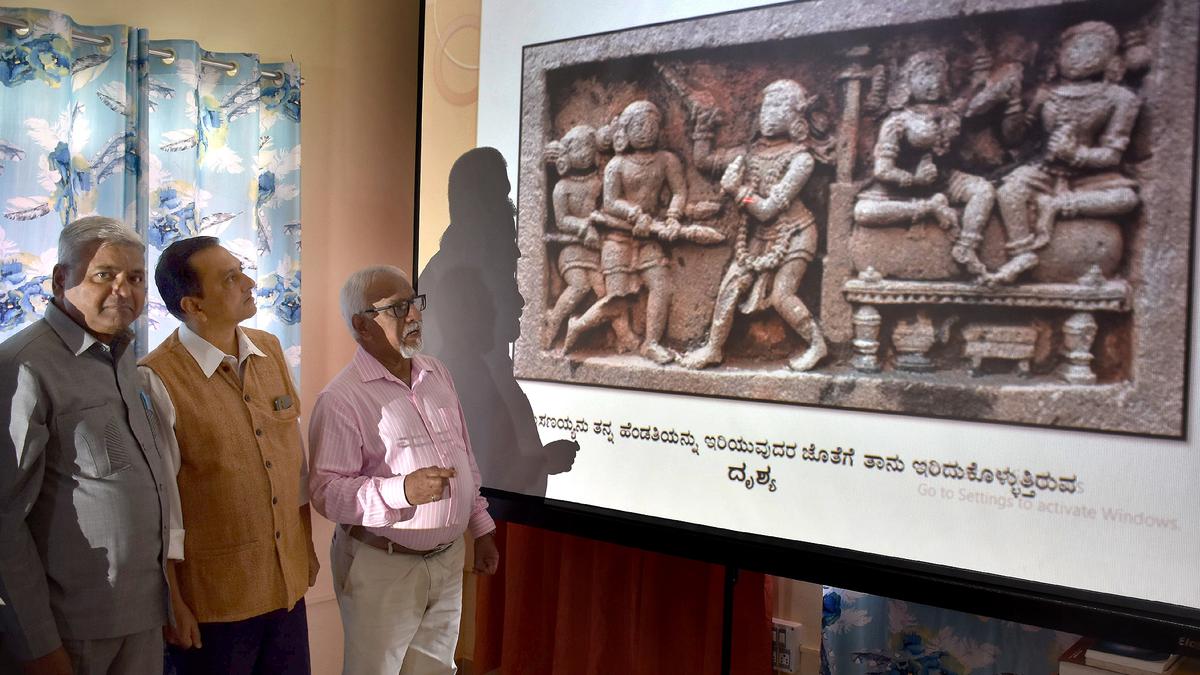 A hero stone belonging to the Hoysala period and dated to early 13th century was discovered at Chakashettihalli about 6 km from Pandavapura town in Mandya district.
Though hero stones are commonly found in the rural hinterland, this is reckoned to be rare as it was erected to commemorate the memory of an officer (sthanika) who killed his wife before ending his own life, according to heritage expert N.S. Rangaraju of INTACH Mysuru.
The inscriptions on the plate accompanying the hero stone was copied and the estampage was sent to experts who have deciphered the inscription and also pieced the story behind the hero stone which is 4.10 ft in height and 3 ft in width, and the slab has a thickness of 6.5 inches, according to C.A. Shashidhara, senior research fellow at the Centre of Excellence for Studies in Classical Kannada (CESCK), who discovered the hero stone. Half of it was hidden in the ground while only a portion of it was visible before it was excavated, he added.
It indicates that Masanayya was perhaps a Garuda (a class of soldiers during the Hoysala period who had dedicated to guard the king and sacrifice themselves in the event of the ruler's death) and was mortally wounded in a battle with little chance of survival. So husband and wife decide to end their lives and the hero stone depicts Masanayya plunging a dagger to his wife, besides striking himself.
Prof. Rangaraju said that monumental inscriptions of this type have not been found in the Hoysala period or any other dynasty and is hence rare. It has been dated to the regime of the Hoysala king Veerabalala II and the period corresponds to February 17th, 1209 CE, he added.
Half of the text of the inscription  consists of the titles of the Hoysala ruler Veerabalala II and it transpires that a place mentioned as Daasara Shettihalli was an important administrative centre during the Hoysala period, according to Prof. Rangaraju.
N.M. Talwar, Project Director, CESCK, said they would seek permission from the Department of Archaeology Museums and Heritage to shift the hero stone to its (CESCK's) premises where they were also planning to have a museum of antiquities in future. Shailendra Mohan, Director, Central Institute of Indian Languages, and others were present.