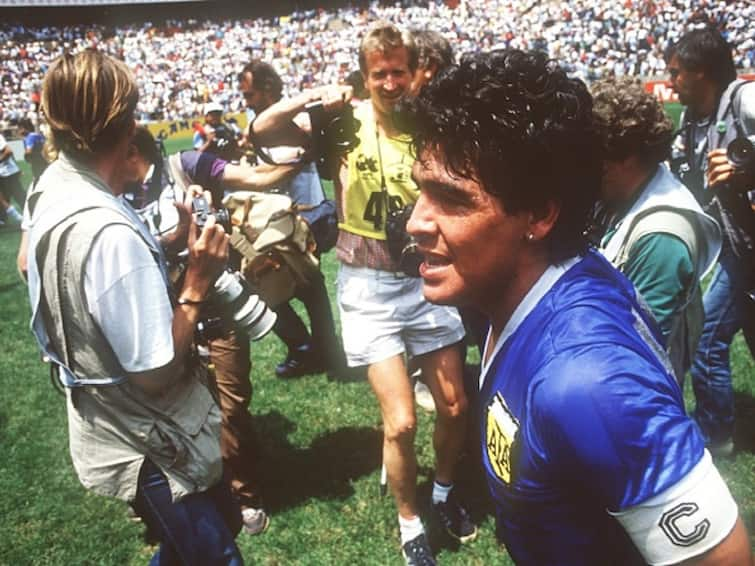 Four days before the FIFA World Cup to be held in Qatar, the ball with which Argentina icon Diego Maradona scored the famous 'Hand of God' goal against England in the 1986 World Cup sold at auction on Wednesday for GBP 2 million ($2.4 million), as reported by news agency AFP.
The 36-year-old ball, which was owned by the Tunisian match referee Ali Bin Nasser, was sold at the Graham Budd auction in London on Wednesday.
Nasser was the referee of this match and he could not see Maradona scoring the goal with his hand. Maradona jumped to score a header in that match but scored with his hand instead of his head. The England players protested the goal, but the referee did not budge from his decision. Maradona later named it 'Hand of God'. Since then the ball has been with referee Nasser.
An unforgettable goal 🧐

Diego Maradona's 'Hand of God' goal against England will forever go down in #FIFAWorldCup history 🇦🇷


— FIFA World Cup (@FIFAWorldCup) November 11, 2022
He later said the goal had been scored "a little with the head of Maradona, a little with the hand of God". The second came just four minutes later as Maradona sped past five English players and Shilton to score the "Goal of the Century", according to a 2002 FIFA poll.
Bin Nasser said in the statement, "this ball is part of international football history, it feels like the right time to be sharing it with the world."
"I couldn't see the incident clearly. The two players, Shilton and Maradona, were facing me from behind. As per FIFA's instructions issued before the tournament I looked to my linesman for confirmation of the validity of the goal — he made his way back to the halfway line indicating he was satisfied that the goal should stand.
Maradona's other belongings related to this match have also been auctioned earlier, which fetched huge money. The shirt Maradona wore in that match was auctioned in May and was sold for $9.3 million.
"At the end of the match, the England head coach Bobby Robson said to me: 'You did a good job, but the linesman was irresponsible'."
Argentina won the match 2-1 and later won the World Cup as well. From this tournament, Maradona was rated among the greatest players in the world. Maradona died in 2020 at the age of 60.