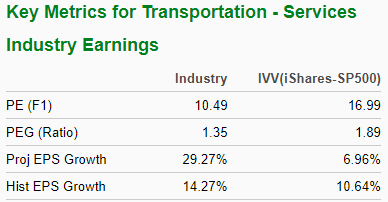 Universal Logistics Holdings ULH, a Zacks Rank #1 (Strong Buy), has bucked the market's overall downtrend this year, hitting an all-time high in price during August. A decline over the last month represents a solid buying opportunity, as ULH looks primed to resume its uptrend. The company sports a 'B' rating for our Zacks Value Style Score and an overall 'B' VGM Score, indicating a strong likelihood that this undervalued stock propels higher on positive earnings estimate revisions.
ULH is a component of the Zacks Transportation – Services industry group, which currently ranks in the top 17% out of approximately 250 industries. Because it is ranked in the top half of all Zacks Ranked Industries, we expect this group to outperform the market over the next 3 to 6 months. Historical research studies suggest that approximately half of a stock's future price appreciation is due to its industry grouping. In fact, the top 50% of Zacks Ranked Industries outperforms the bottom 50% by a factor of more than 2 to 1.
By targeting stocks contained within the top industry groups, we can dramatically improve our odds of success. Also note the favorable characteristics for this industry below:

Image Source: Zacks Investment Research
Company Description
Universal Logistics Holdings provides transportation and logistics solutions in the United States, Canada, Mexico, and Columbia. The company offers truckload services including dry van, flatbed, and heavy-haul operations; domestic and international freight forwarding and customs brokerage; and final mile and ground expedite services. ULH transports various parts such as building materials, paper, food, furniture, steel, and other metals.
The transportation company serves the automotive, steel, oil and gas, alternative energy, and manufacturing industries. Formerly known as Universal Truckload Services, ULH was founded in 1932 and is based in Warren, MI.
Earnings Trends and Future Estimates
ULH has built up an impressive earnings history, surpassing earnings estimates in each of the past four quarters. The company most recently reported fiscal Q2 EPS back in July of $1.69/share, a 45.7% beat over the $1.16 consensus estimate. On a trailing four-quarter basis, ULH has delivered a 73.68% average earnings surprise.
For the third quarter, analysts are projecting that ULH delivered EPS of $1.35/share, reflecting an 82.4% growth rate versus the same quarter in the prior year. ULH is scheduled to report the results on October 27th. Sales are anticipated to have risen 10.93% to $494.3 million.
It's a similar situation when we zoom out and view the full-year estimates. Analysts following the company have raised estimates by 27.47% over the past 60 days. The Zacks Consensus Estimate for 2022 earnings now stands at $5.80/share, translating to growth of 80.12% relative to last year. Clearly, the growth is there for ULH investors. 

Image Source: Zacks Investment Research
Let's Get Technical
Shares have advanced 75% this year during the bear market. Only stocks that are in extremely powerful uptrends are able to make this type of price move while the market makes a series of lower lows. This is the kind of stock we want to include in our portfolio – one that is trending well and receiving positive earnings estimate revisions.

Image Source: StockCharts
The stock has been making a series of higher highs, while just recently experiencing a pullback into September. A new leg higher is likely on the way, with the stock headed back to all-time highs. Blending both strong fundamentals and technicals, ULH is poised to continue its outperformance.
Empirical research shows a strong correlation between near-term stock movements and trends in earnings estimate revisions. As we know, this highly-rated company has recently witnessed positive revisions. As long as this trend remains intact (and ULH continues to deliver earnings beats), the stock will likely continue its bullish run this year. Cautious investors may feel hesitant about investing in a stock that has come this far, but the fact is this elite company is still outperforming.
In addition, ULH is relatively undervalued, irrespective of the metric used:

Image Source: Zacks Investment Research
Bottom Line
It's easy to understand why this company boasts our top Zacks Rank #1 (Strong Buy). Robust fundamentals combined with a strong technical trend certainly justify adding shares to the mix. Backed by a leading industry group and robust history of earnings beats, it's not difficult to see why this company is a compelling investment.
ULH also pays a $0.42 annual dividend, equating to a 1.31% dividend yield. Recent positive earnings estimate revisions will help to provide a cushion during any potential market decline. This long-term stock market winner continues to prove its doubters wrong, and investors would be wise to consider ULH as a portfolio candidate if they haven't already done so.
Just Released: Free Report Reveals Little-Known Strategies to Help Profit from the  $30 Trillion Metaverse Boom
It's undeniable. The metaverse is gaining steam every day. Just follow the money. Google. Microsoft. Adobe. Nike. Facebook even rebranded itself as Meta because Mark Zuckerberg believes the metaverse is the next iteration of the internet. The inevitable result? Many investors will get rich as the metaverse evolves. What do they know that you don't? They're aware of the companies best poised to grow as the metaverse does. And in a new FREE report, Zacks is revealing those stocks to you. This week, you can download, The Metaverse – What is it? And How to Profit with These 5 Pioneering Stocks. It reveals specific stocks set to skyrocket as this emerging technology develops and expands. Don't miss your chance to access it for free with no obligation.>>Show me how I could profit from the metaverse!
Want the latest recommendations from Zacks Investment Research? Today, you can download 7 Best Stocks for the Next 30 Days. Click to get this free report
 
Universal Logistics Holdings, Inc. (ULH): Free Stock Analysis Report
 
To read this article on Zacks.com click here.
 
Zacks Investment Research
The views and opinions expressed herein are the views and opinions of the author and do not necessarily reflect those of Nasdaq, Inc.