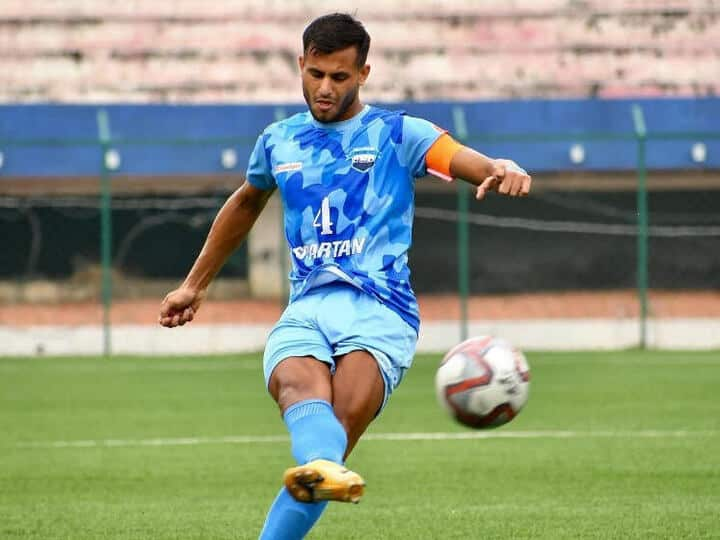 New Delhi: Making best use of an opportunity is significant in an athlete's career. And one should ask Anwar Ali, India's ball-playing Centre-back, how important is it to prove one's talent after fighting tooth and nail to grab an opportunity. Anwar, an India defender, scored a goal for India in their recent AFC Asian Cup qualifier clash against Hong Kong that India won 4-0.
The story of Anwar Ali is one of grit and determination.
The 22-year-old has fought hard to get the opportunity to play football at the national level after being barred for two years. Reason: He was diagnosed with a rare heart condition, hypertrophic cardiomyopathy (HCM), also called 'Athlete's heart' — a rare cardiovascular disease in which the heart muscles thicken.
The All India Football Federation (AIFF) barred the U-17 World Cup star from playing competitive football after the diagnosis in 2019. 
Dealing with an ailment of such magnitude was an expensive affair for a youngster coming from a humble family. His father is a goat herder back in Adampur, Punjab, and has three other sisters to take care of. Anwar's mentor Ranjit Bajaj, coach and former footballer who owns Minerva Football Academy in Punjab, played a crucial role in shaping up Anwar's career. "We (Minerva) picked him up at the age of 13. We understood he is going to be a star player and has potential to play for the national team," Bajaj told ABP Live.
He called Anwar a "once-in-a-generation" player.
How Anwar Made His Comeback
Talking about his heart condition, Bajaj said that the defender was diagnosed with the condition when Mumbai FC did a cardio check-up, which is rarely done by any ISL teams. The AIFF thereafter barred him from playing the game. 
In 2020, the youngster moved the Delhi High Court to challenge the AIFF's order. 
"Anwar was tested and cleared after Dr Sanjay Sharma, who is also associated with English FA's cardiology panel, claimed Anwar needed a bit of monitoring and he can continue playing competitive football, Besides, Anwar gave a risk assessment declaration that he would take complete responsibility if something happens to him on the ground," Bajaj said.
Even when he was away from competitive football, the coach said, Anwar, made sure he stayed relevant to the game. He turned a vegetarian and vegan to stay in control of his heart condition, leaving no stone unturned to make sure he is back in the field. With the help of his mentor and parents, he finally made his comeback last year.
With Igor Stimac, the India coach, trying hard to fill loopholes in the backline, Anwar could be fit in perfectly to build a watertight defending wall for the team.
On Tuesday, India beat Hong Kong 4-0 but even before Blue Tigers got onto the pitch, they qualified for the AFC Asian Cup for the fifth time as Palestine carved out a comfortable 4-0 win against Philippines on the same day. 
Meanwhile, Anwar is not the only footballer to have been diagnosed with the heart condition.
Here is Anwar's road to Indian Team